We believe that in order to create lasting change in the educational success of students attending San Francisco public schools we need to focus on those students with the greatest need – those who come from households without a college-going tradition who attend schools that are unable to provide them the assistance and resources they need to succeed in high school, graduate from college, and excel in their careers. In order to serve more of these students, we are embedded at James Denman Middle School and Everett Middle School, both located in the southeastern corridor of San Francisco.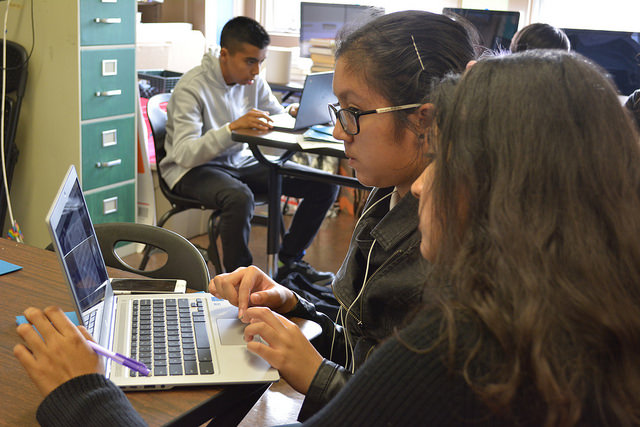 We estimate that there are 2,000 sixth graders in the San Francisco Unified School District each year that could become first generation college graduates. By closing the opportunity gap in a way that aligns with District-stated goals–such as creating a college going culture in middle school–we are SFUSD's ideal partners. First Graduate® is the only college access program that starts in middle school and stays with students through college graduation.
By changing the expectations for low-income students and their families and making a college education attainable, we change the dynamics of families, neighborhoods, and communities. Together, we can make social justice a reality by ensuring that every student in San Francisco has access to high quality learning experiences so that they can succeed in college and beyond.
Philanthropist Ann-Eve Hazen founded First Graduate® (formerly b.a.y. fund) in November 2001. Her vision was to seed the creation of a San Francisco-based nonprofit organization dedicated to improving college access for low-income youth. She was soon joined by founding board member Anaflor Graham. Programming began in 2002 with 24 8th graders recruited from two middle schools. Our work is based on the premise that helping the first child of a family to graduate from college will result in exponential benefits for the family as a whole — both economically and by spawning a college-going tradition.
The challenge was great, but clear — to provide guidance for aspiring first-generation college graduates that would replicate the advantages enjoyed by students with college educated parents. 
Our mission is to help students become the first in their families to graduate from college ready to pursue careers that are meaningful to them.
Our vision is to establish a college-going tradition for every family in San Francisco.
Our values drive our work, inform our organizational culture, and hold us accountable to our mission and the communities we serve. Scroll down to learn more about our values.
of Black and Latinx Students graduate high school.
of first generation students will graduate college without help.
SFUSD students come from a household without a college degree.
First Graduate® founder Ann-Eve Hazen was recognized with a Jefferson Award for Community Service for her outstanding work helping first-generation students make their dream of a college degree a reality. Read the KPIX article for more information.
Our values drive our work, inform our organizational culture, and hold us accountable to our mission and the communities we serve.
Student-Centered Approach
We care deeply about our students and believe that each of them has the right and ability to graduate from college and lead meaningful careers. We take the student's perspective when making decisions and always keep the best interests of our families in mind.
In making a 10-year commitment to our students, we maintain a long-term outlook on our program and impact on the community. We work towards sustainability as an organization and team, investing in our development and encouraging continuous improvement.
We cultivate deep, authentic partnerships with families, schools, volunteers, and donors to support each individual student on his or her unique journey. We see accountability, shared responsibility, and access to resources as key levers to our success.
We develop personal, trusting relationships across our team and with our students, families, and partners through transparency, open communication, and mutual respect. We act as an extended family that supports and celebrates our collective achievements.
We are a learning organization that strives to be nimble and creative in achieving our mission as well as resilient and reflective as we grow. We seek intentional stretch and comfort with uncertainty while prioritizing long-term impact and organizational health.
Our students participate in career panels and events, resume writing and networking workshops, job shadow days, and mock interviews to gain exposure to career opportunities available to degree holders.
Each student receives free academic coaching as well as social and emotional support year-round.
We communicate with students monthly and visit them once each year at their college campus. We also help our college students find paid summer internships.
We help students transition from middle school to academically rigorous high schools. We also provide intensive college counseling, standardized test preparation, college application planning, financial aid workshops for students and parents, access to summer enrichment programs, college visits, and help researching and finding college scholarships.
Students gain insight into college choices and professional careers from college educated volunteers. Younger First Graduate® students connect with older students and benefit from peer mentoring.
Our team tracks progress and works closely with students, families, tutors, mentors, teachers, and partner organizations to make sure that our students are successfully completing each step on the way to becoming college graduates.
Students' families learn how they can support their children while they are on the path to become first generation college graduates. Our active Parent Association helps welcome new families to First Graduate, provides peer support, and creates fun activities for First Graduate® families.
We acknowledge that we are on the unceded ancestral homeland of the Ramaytush Ohlone who are the original inhabitants of the San Francisco Peninsula. As the indigenous stewards of this land and in accordance with their traditions, the Ramaytush Ohlone have never ceded, lost, or forgotten their responsibilities as the caretakers of this place, as well as for all peoples who reside in their traditional territory. As Guests, we recognize that we benefit from living and working on their traditional homeland. We wish to pay our respects by acknowledging the Ancestors, Elders, and Relatives of the Ramaytush Community and by affirming their sovereign rights as First Peoples.